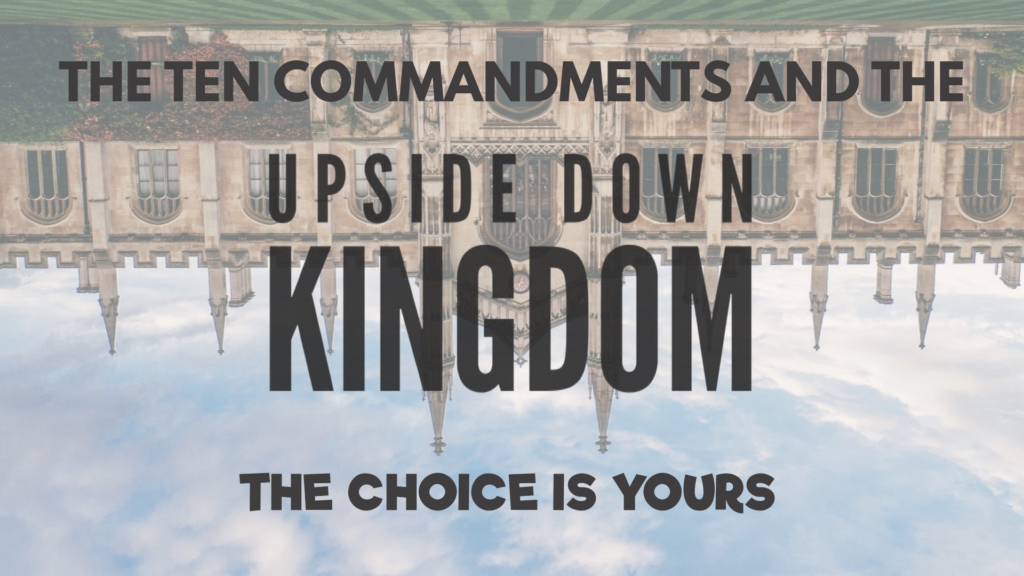 Kingdom living is a not a term that we are trying to use for our own meaning but rather us seeking to understand the teachings of our Messiah, Jesus of Nazareth.

Matthew and Luke record the teaching for the apostles regarding how to pray. Holy Father of heaven and earth …….Your kingdom come and Your will be done on earth the way that it would be done in heaven. This should be part of our daily prayer focus.

We will not understand this new way of living if we are not applying ourselves and trusting the teachings of our Lord.

This is a learning process. It is for this reason that we regularly talk about "baby steps". There is a term that is used in many different singular applications such as athletics, the military, sales, or production. It is explained as "being in the zone". This is a very subjective
phrase but I have heard many people use this term once they have pursued, learned, committed, and progressed at something to the point where things begin to "click". Their learning frustrations begin to fade as the information begins to make sense and take hold in real life application. Some people use the term "flow" as another subjective term.

Our faith journey with our Savior and Lord is even more so because it is a journey of body, soul, and spirit. There is this spiritual learning curve. A spiritual awareness that moves one to repent and trust Christ as Lord and Savior. This genuine taste of forgiveness and transformation. You begin to learn but it is very frustrating because things are not natural. It takes effort and commitment. You get some help or encouragement and so you keep learning and seeking. If you don't give up in your pursuit of the Word of God, prayer, and fellowship in the gospel…….at a certain point, things begin to "click". The "baby steps" are gaining traction on this journey and you realize you are way further along than you realize. You have those moments when you are blown away because you have this euphoric sense of the Spirit's presence and you are "in the zone" or "flow". This surprises you as well as encourages and exhilarates your soul. Things are beginning to make sense to you and you begin to want to help other people on this journey of faith in Creator God expressed in sacrifice of Jesus and the mighty working of the Holy Spirit.

This is the path of the Upside Down Kingdom. This is what it means to learn the ways of Jesus Christ and live it out in this world. This process is the work of the church. This is why we are here. This is a participation family. We are investing in anyone who is committed to knowing God, learning His ways, and making Him known. We are not trying to twist anyone's arm or force anyone to do something against their will. We have found a glorious path that will give reward both now and in the life to come. I invite you to live this life alongside of us as we learn to live out this new citizenship that has been purchased by the blood of Christ.
Blessed are the undefiled in the way,
Who walk in the law of the LORD!
2  Blessed are those who keep His testimonies,
Who seek Him with the whole heart!
3  They also do no iniquity;
They walk in His ways.
4  You have commanded us
To keep Your precepts diligently.
5  Oh, that my ways were directed
To keep Your statutes!
6  Then I would not be ashamed,
When I look into all Your commandments.
7  I will praise You with uprightness of heart,
When I learn Your righteous judgments.
8  I will keep Your statutes;
Oh, do not forsake me utterly!
9  How can a young man cleanse his way?
By taking heed according to Your word.
10  With my whole heart I have sought You;
Oh, let me not wander from Your commandments!
11  Your word I have hidden in my heart,
That I might not sin against You.
12  Blessed are You, O LORD!
Teach me Your statutes.
13  With my lips I have declared
All the judgments of Your mouth.
14  I have rejoiced in the way of Your testimonies,
As much as in all riches.
15  I will meditate on Your precepts,
And contemplate Your ways.
16  I will delight myself in Your statutes;
I will not forget Your word.

Psalm 119:1-16 (NKJV)